As I mentioned previously, one of the activities we like to do as a family is visit North Carolina State Parks and get our NC State Parks Passport book stamped. We decided to make use of our time on the southeastern coast to check out a few of the state parks that we wouldn't ordinarily have access to.
So on Sunday, we woke up and made our way to the Carolina Beach State Park in Carolina Beach.
You can learn more about the passport program here or pick up your free passport book at any NC state park office.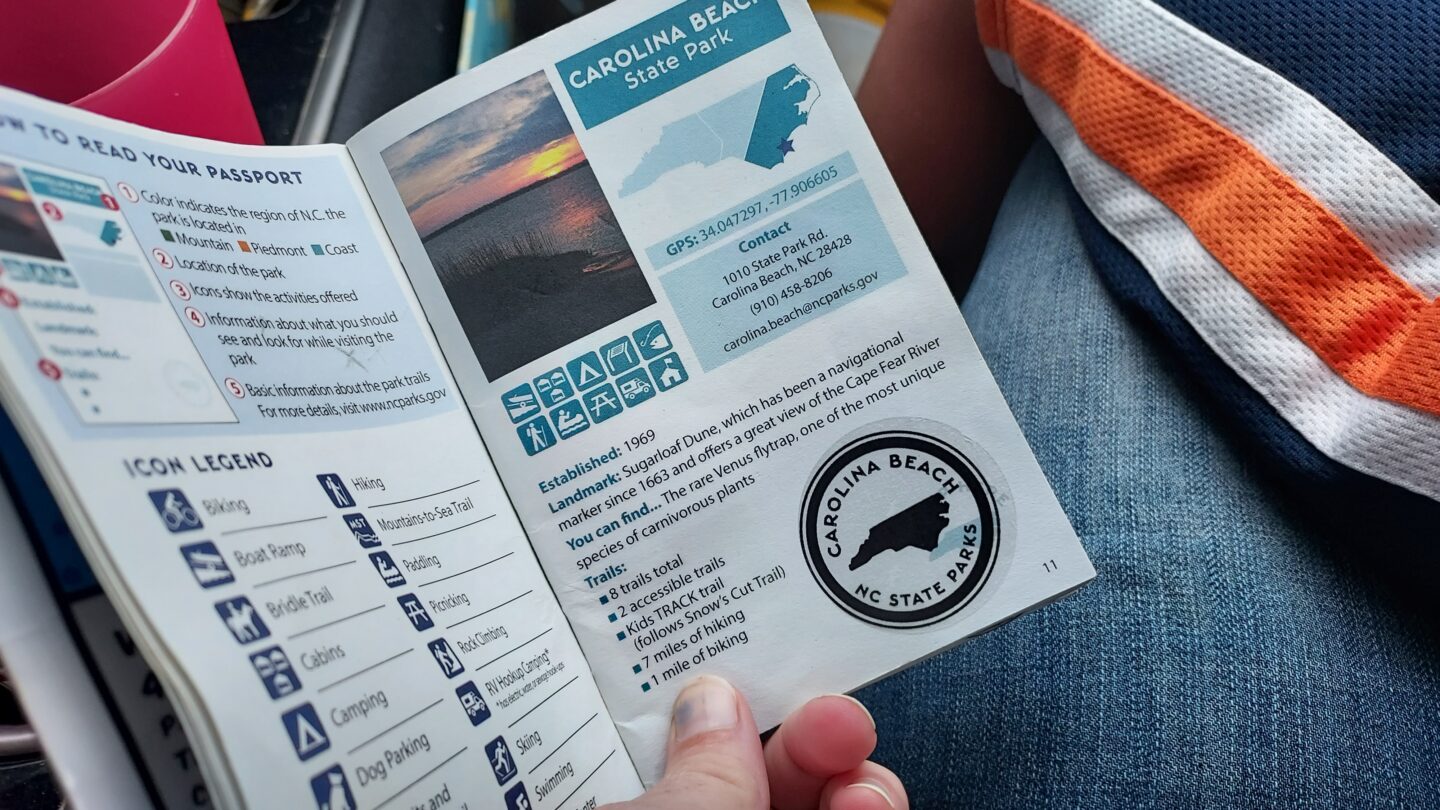 This state park was of major interest to my oldest son as he is a huge fan of carnivorous plants, though I cautioned him that we may not see any. As we made our way into the park and down the Flytrap Trail – we ran into a group who shared that they had not found any.
The Flytrap Trail is a wheelchair-accessible .5-mile trail. While we didn't stick to it completely, there is a boardwalk you can use to easily stay on it.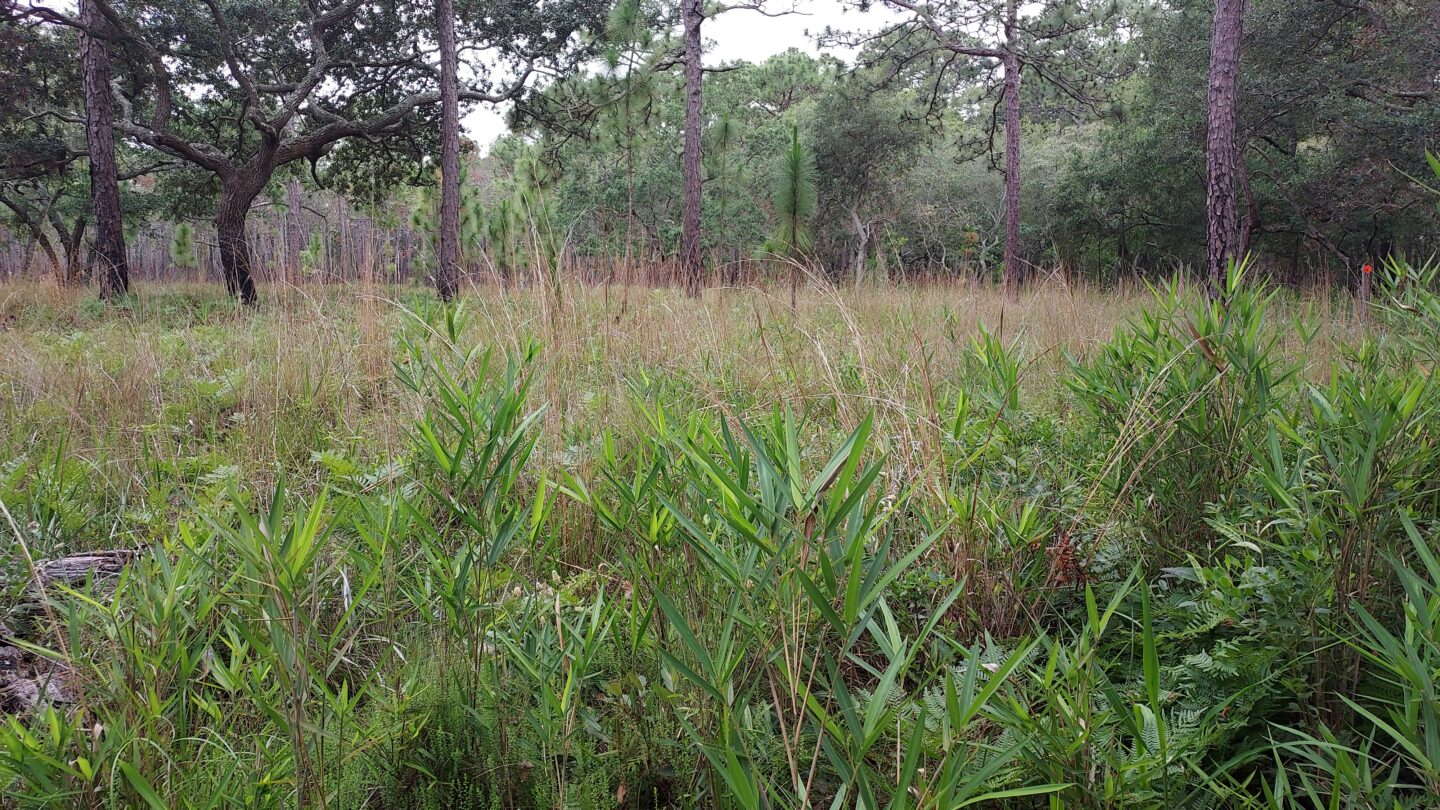 Just a reminder, Venus flytraps are native only within 60 or 70 miles of Wilmington and is a legally protected species under the North Carolina Plant Protection and Conservation Act – meaning you will get in BIG trouble if you remove any plants or seeds.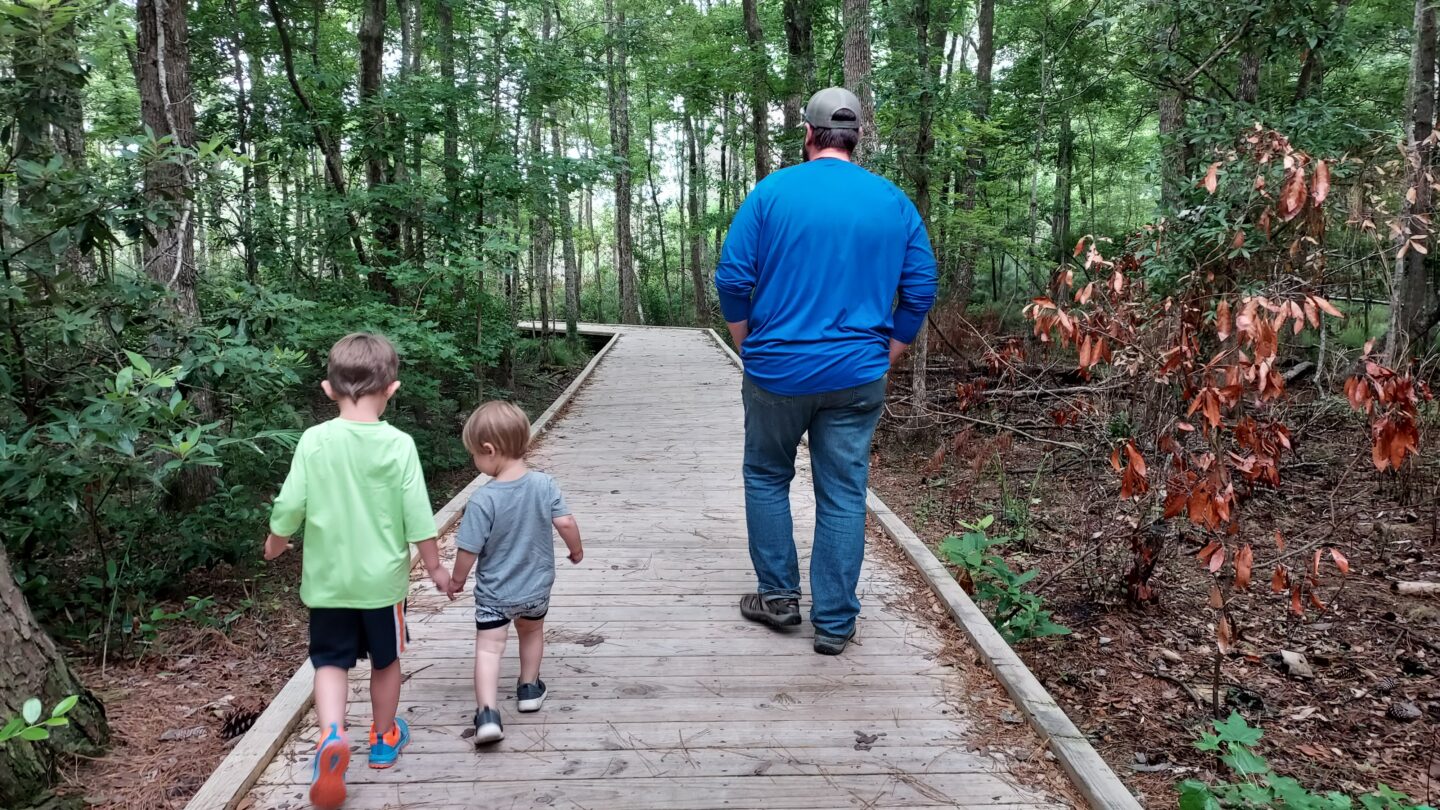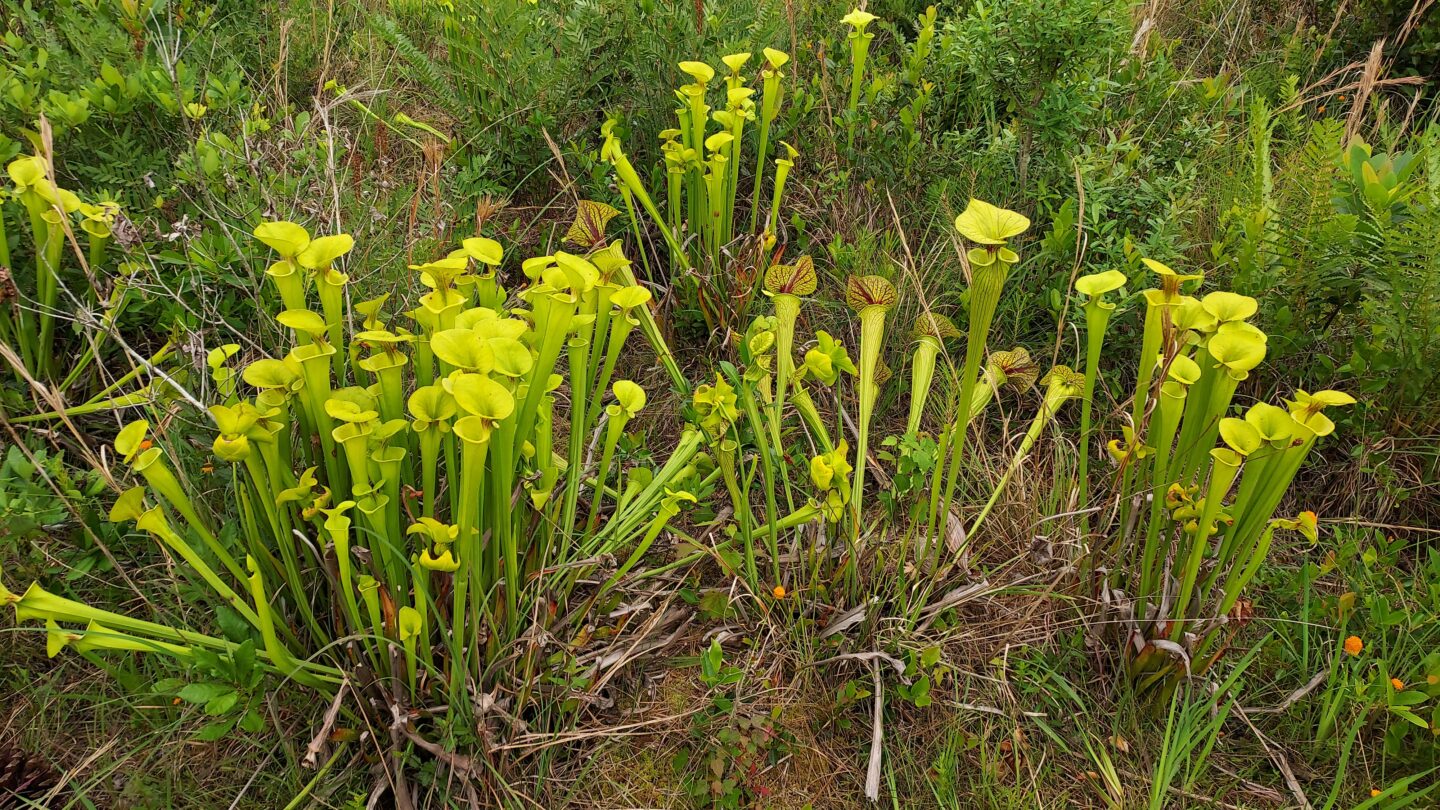 To our surprise, and the delight of my oldest, we did discover some carnivorous plants – Pitcher Plants. A huge patch of them.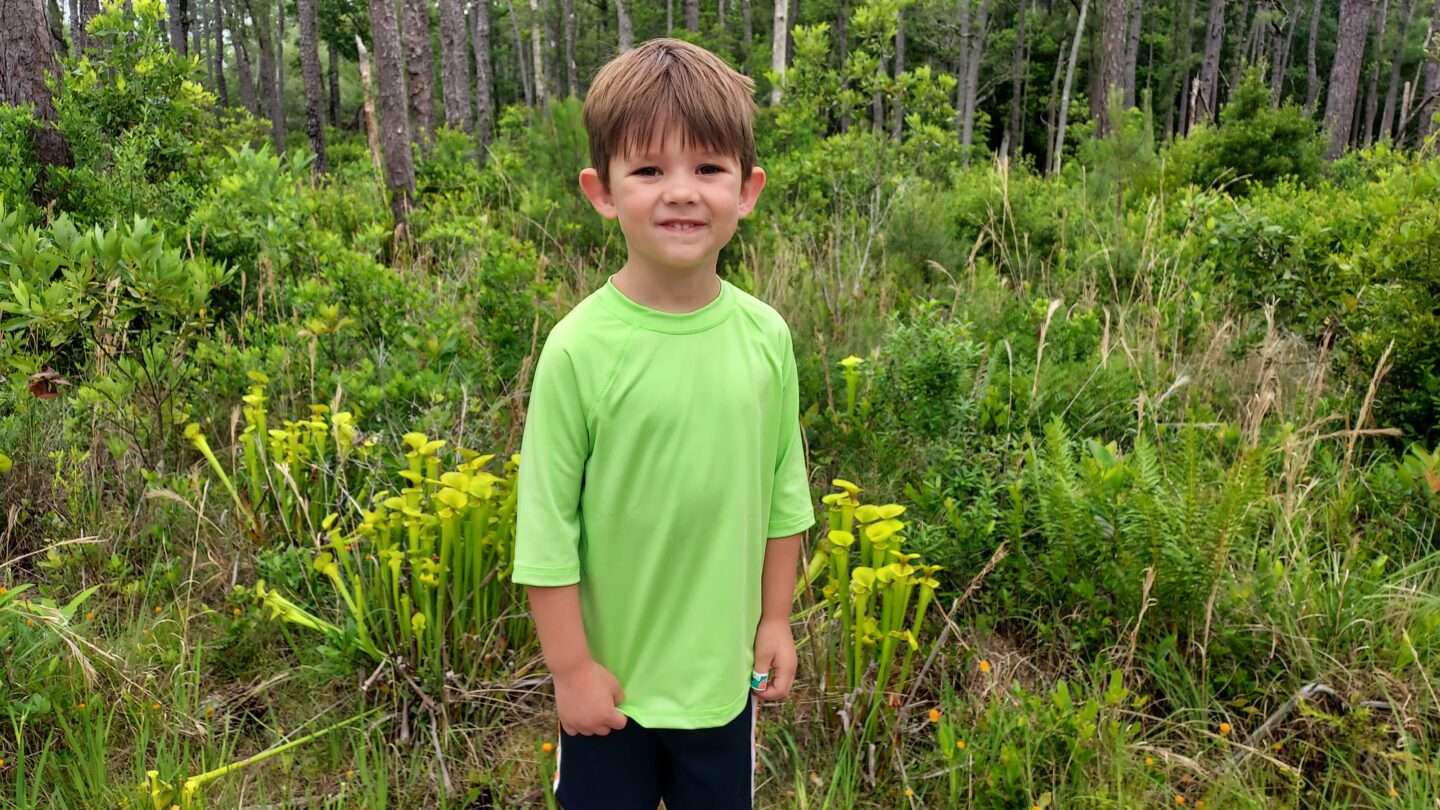 Though Caleb was happy to see them, he did "really, REALLY" want to see a Venus fly trap. So I did what most moms would do in this situation. I pulled out my phone.
A quick Google search told me that my question wasn't unique.
So with some ideas in mind, I started looking at the ground around the pitcher plants a little more carefully.
That's when I started to spot them.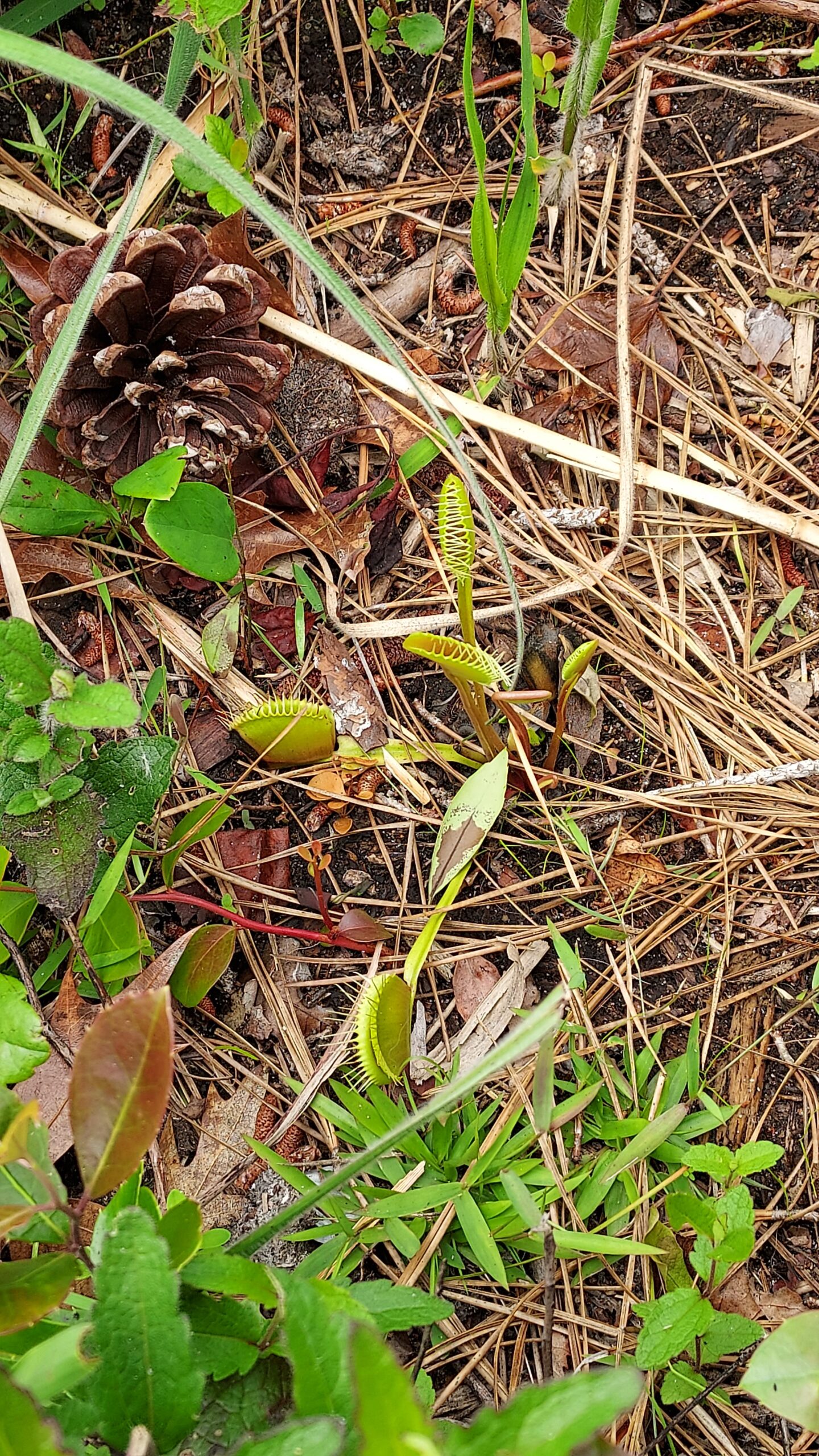 Venus Fly Traps!
I'm sure the whole park heard our exclamations of joy.
Carolina Beach State Park features pocosins wetlands, a type of wetland with deep, acidic, sandy, peat soils that Venus Fly Traps, in particular, seem to love (though in addition to Venus fly traps and Pitcher Plants, you can also find bladderworts, sundews, and butterworts – though we didn't see any).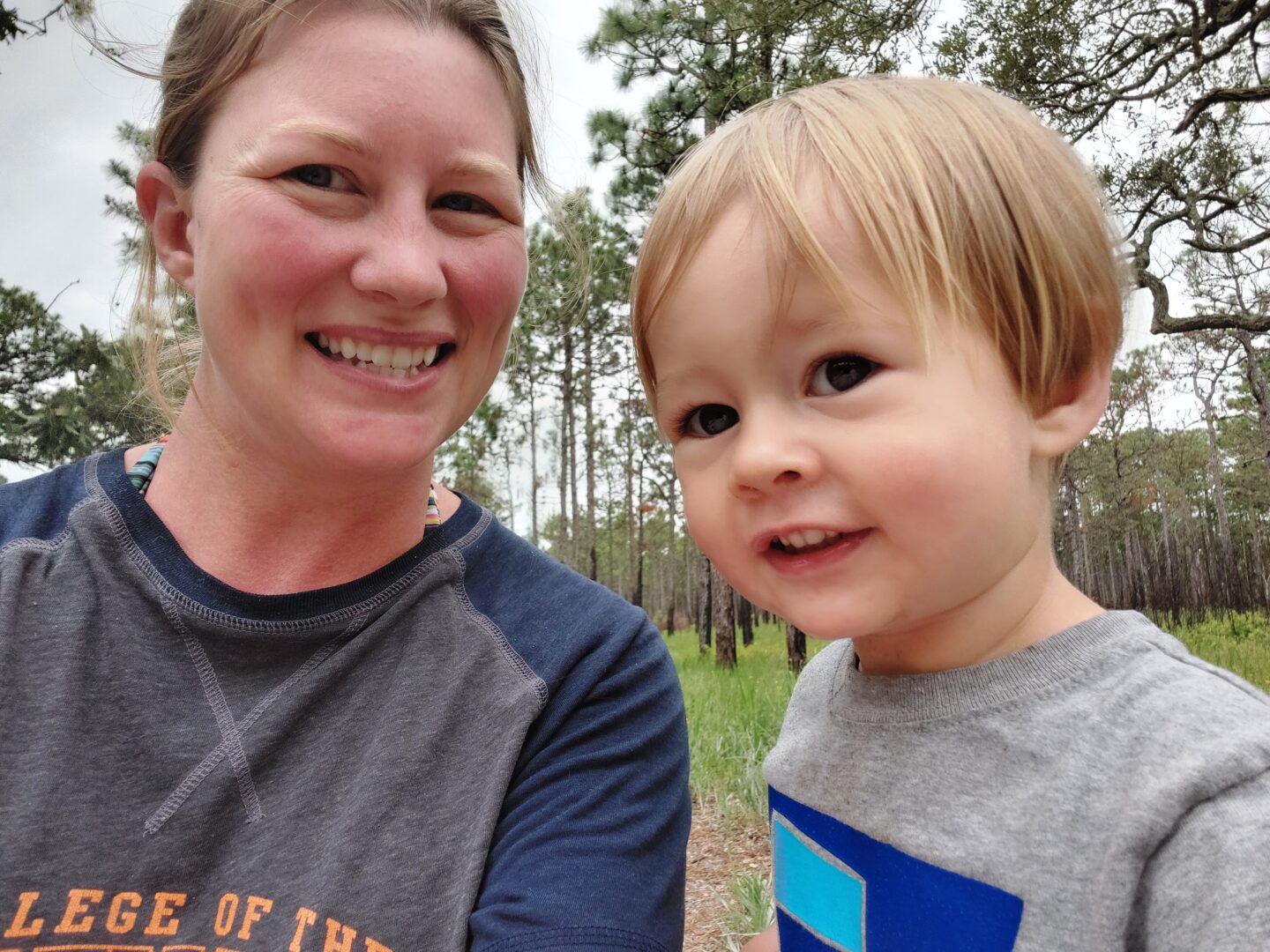 We made our way down some of the Sugar Loaf trail, enjoying the scenery as we walked.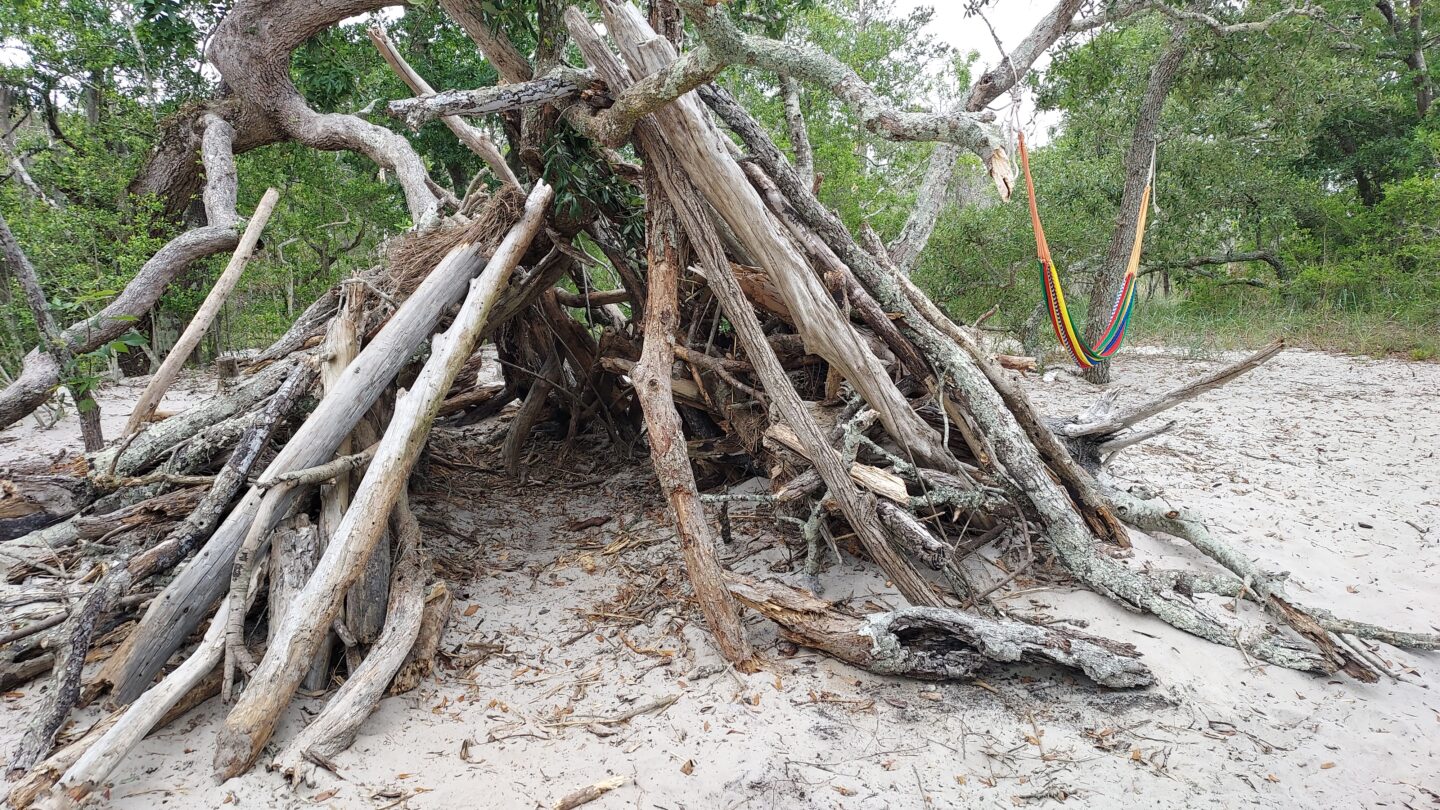 Then hungry, we made our way to Wake N Bake Donuts, a donut shop that I had been following for years now. Though the weather was growing worse (and windier) as we made our way there, they did not disappoint. Their donuts were so big that I found myself full after eating half of one.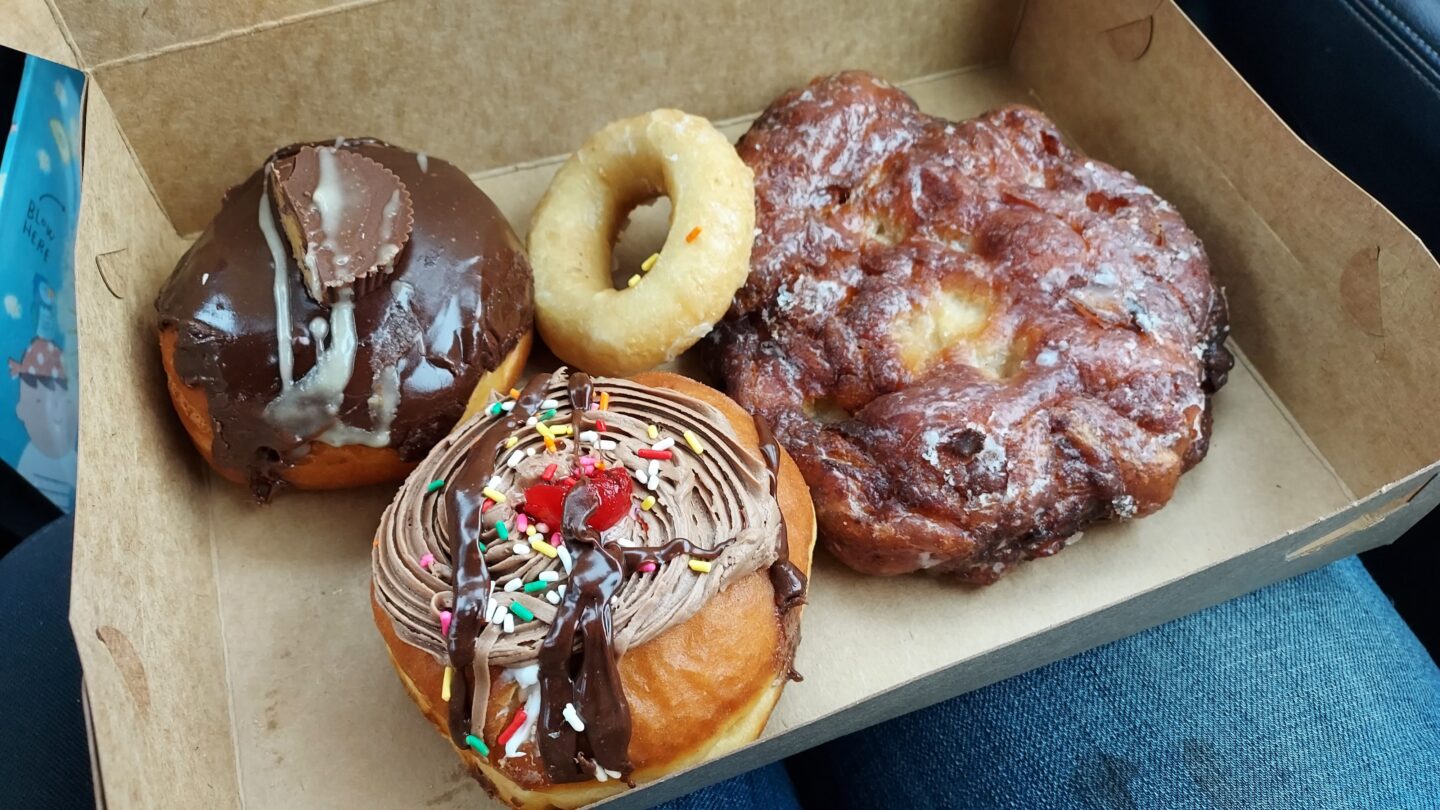 We decided to head to the Fort Fisher State Recreation Area after our donut feast. We passed through Kure Beach, the cutest little coastal town (and decided that once we no longer have access to his family's beach house on Topsail, that we would rent a place there).
Though we technically didn't go on the beach at the Fort Fisher State Recreation Area (look at that parking lot, it was crazy), we still explored the visitor's center. We plan on going back to this park during a different time of year, when the crowds aren't as big.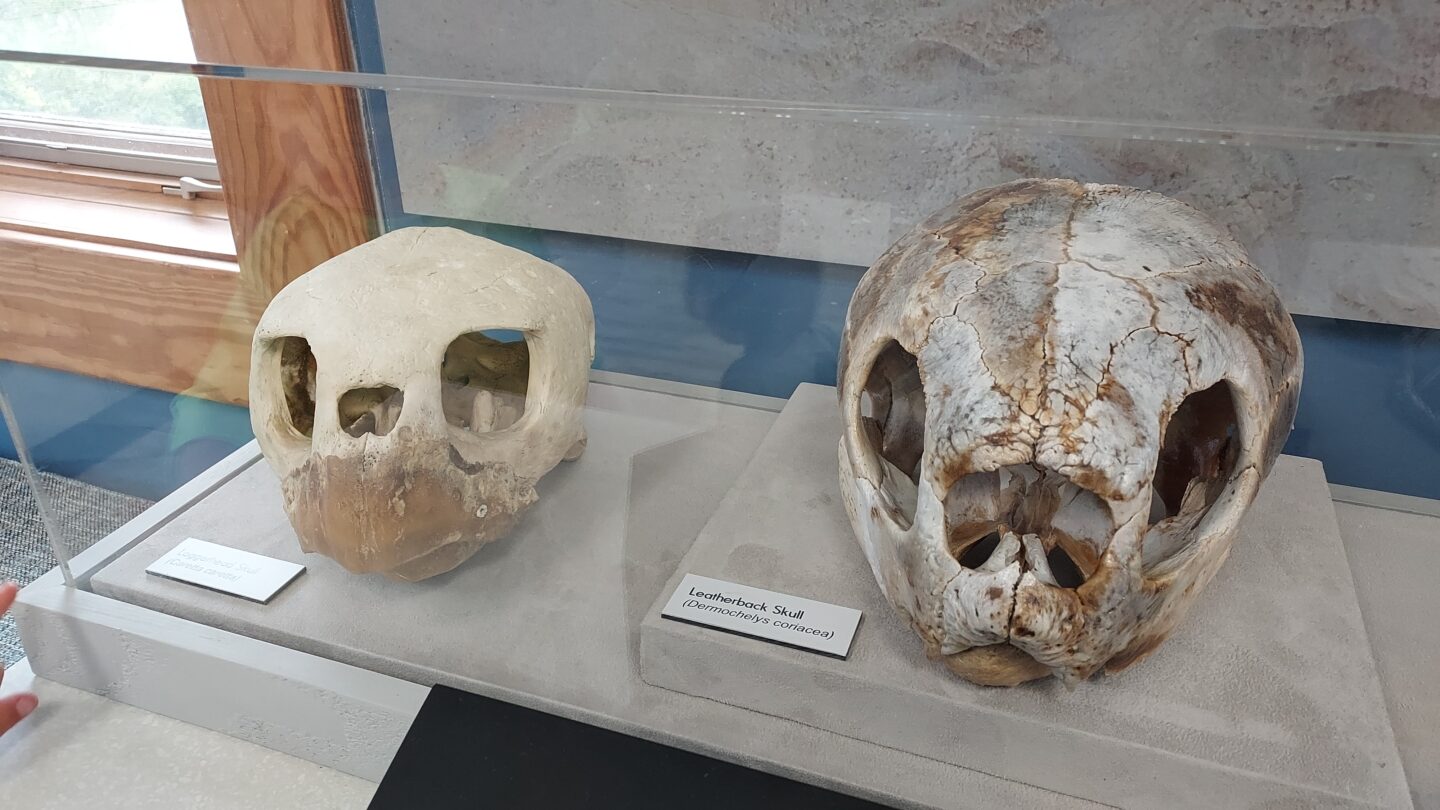 Being a big fan of the NC Aquarium on Roanoke Island, I knew that I wanted to take my family to the NC Aquarium at Fort Fisher. Rainey (my youngest) had never been to any aquarium, so I wanted to share the wonders with him.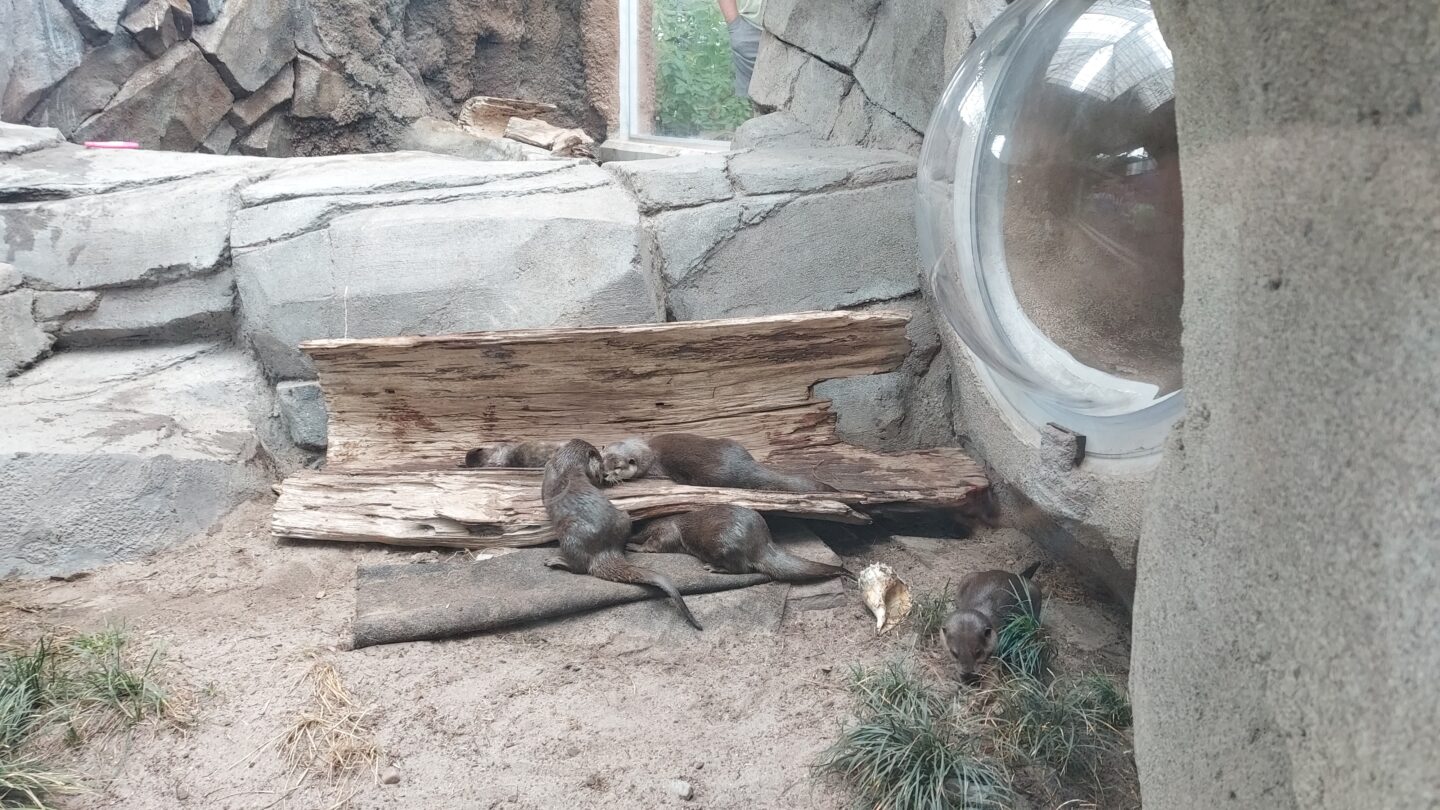 I found myself comparing the two aquariums, of course, though I couldn't tell you which one I liked more. The aquarium on Roanoke Island feels like home. The one at Fort Fisher feels newer, even though I believe it was established around the same time.
But they both have otters, so I can't complain. Even better, they had otter pups (born on Jan. 31)!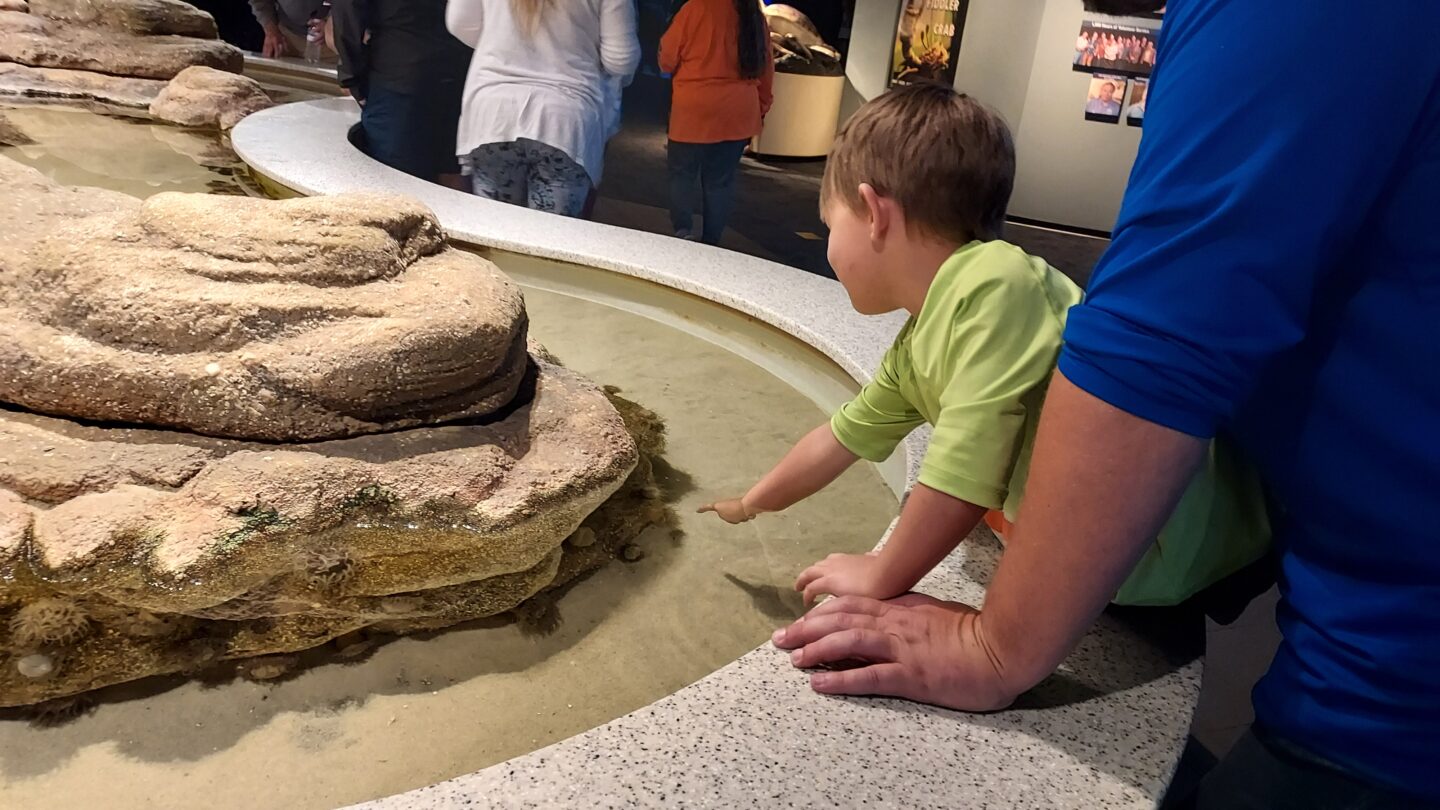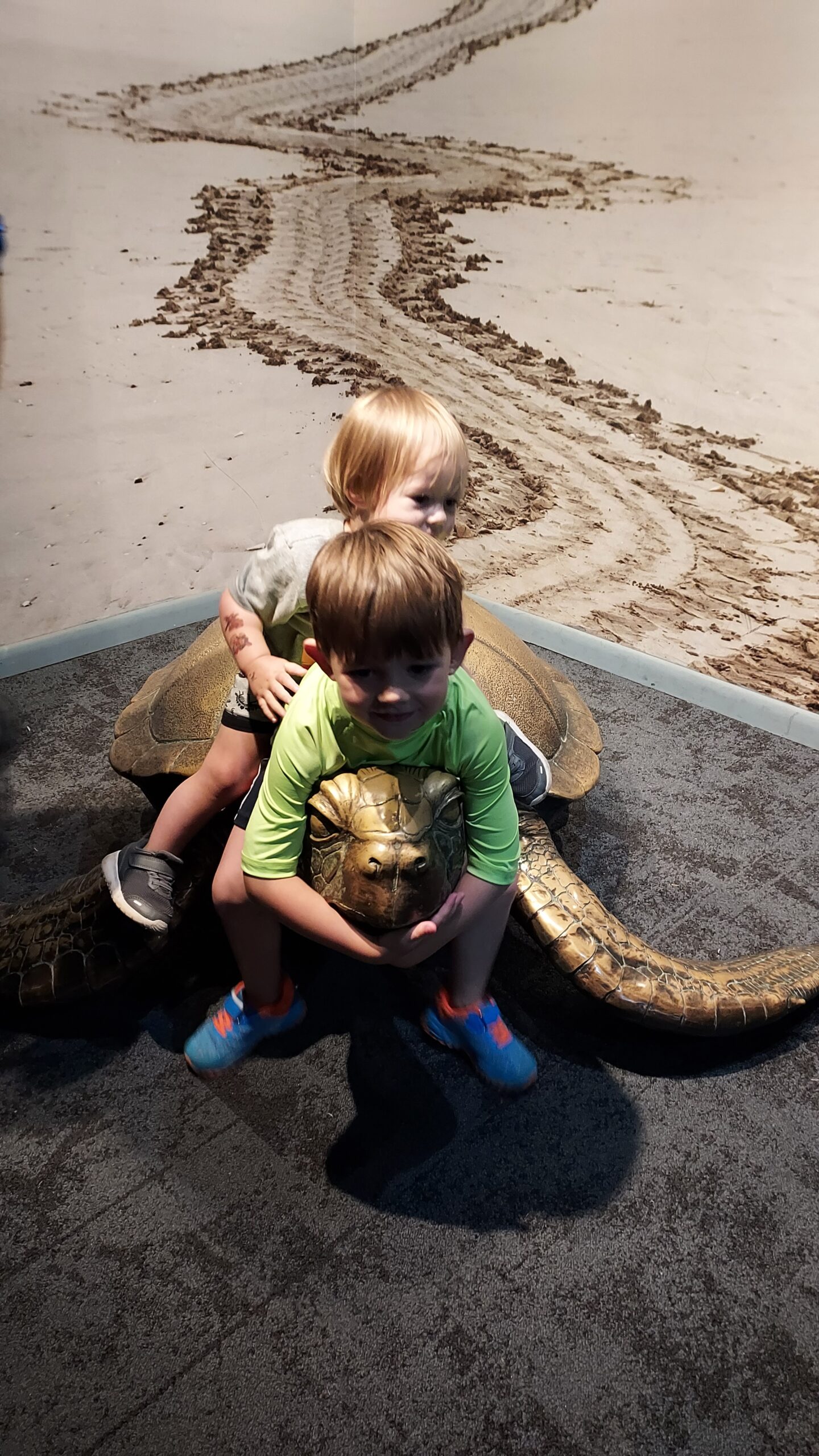 I will confess, Rainey's attention span didn't last long before we made our way to the outdoor playground. Caleb, on the other hand, spent most of his time at the touch tank, enjoying the experience of sitting there with his hand in the water.
It's always interesting to me to see Caleb interact with wildlife, with animals, compared to other kids. He always seems gentler, more patient, calmer. He wasn't splashing the water or picking up the sea creatures.
Now, don't get me wrong, he has his wild moments, very often, but it seems like he does understand how he needs to be around animals. But I've always pressed upon the need for him to be an advocate and it's part of the reason why we started our non-profit, Go Green Foothills, together.
The aquariums also do a lot of conversation work in our area. The NC Aquarium on Roanoke Island in particular installed a sea turtle hospital a few years ago.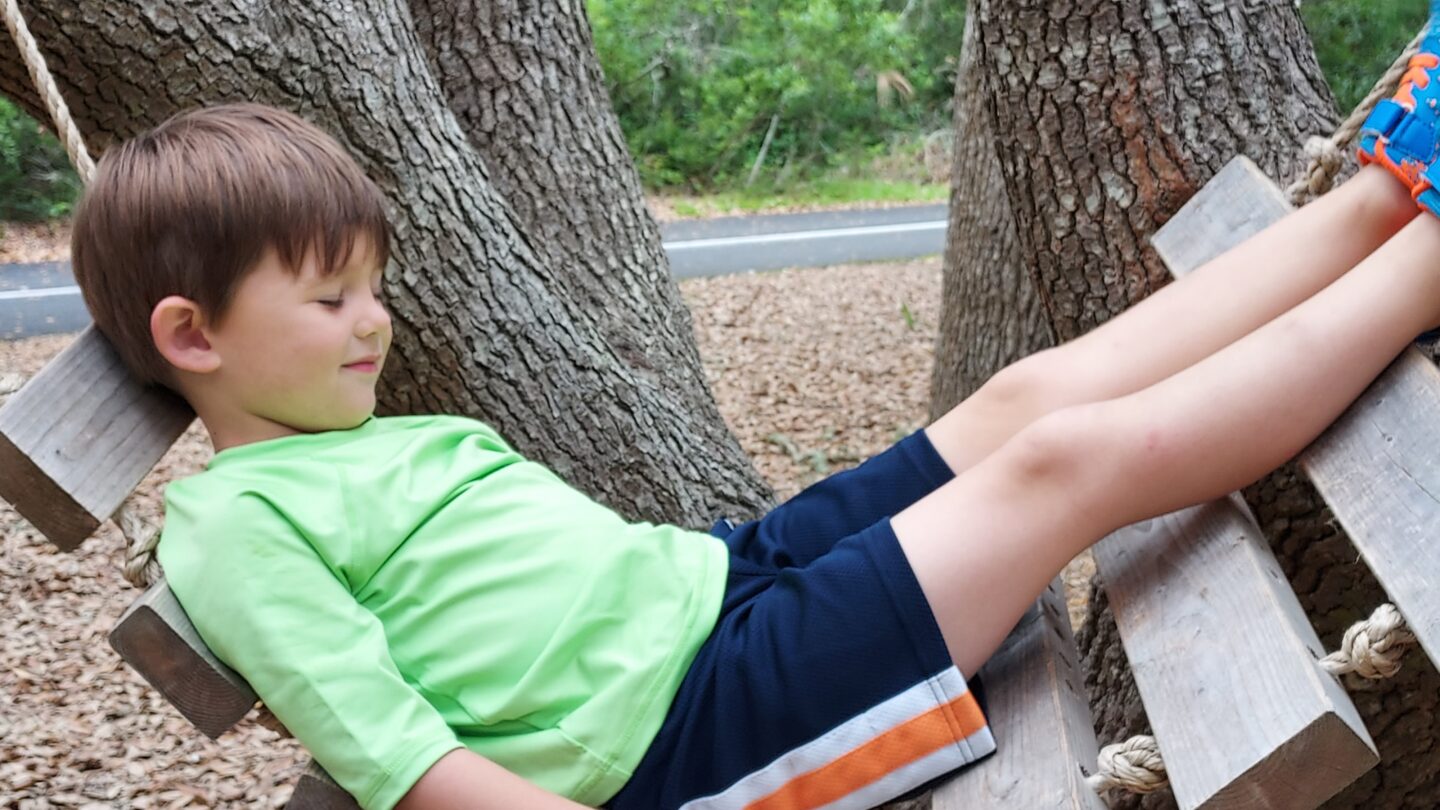 Worn out from our adventure, we made our way back to the beach house and enjoyed some spaghetti. Spaghetti is always such a quick meal, easily customizable based on who is eating.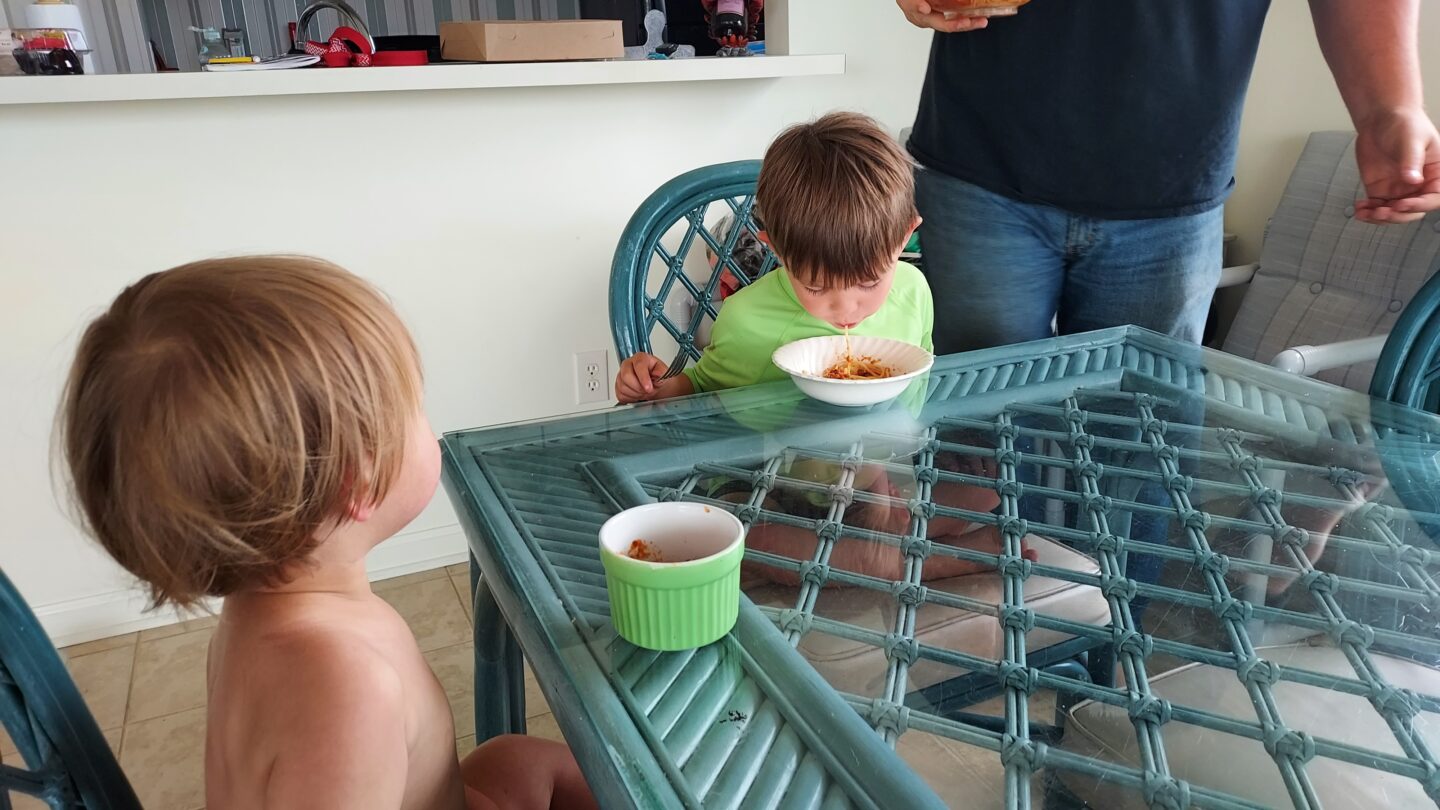 After letting our meal digest, we then followed up with a trip to the beach to enjoy the rest of our afternoon.